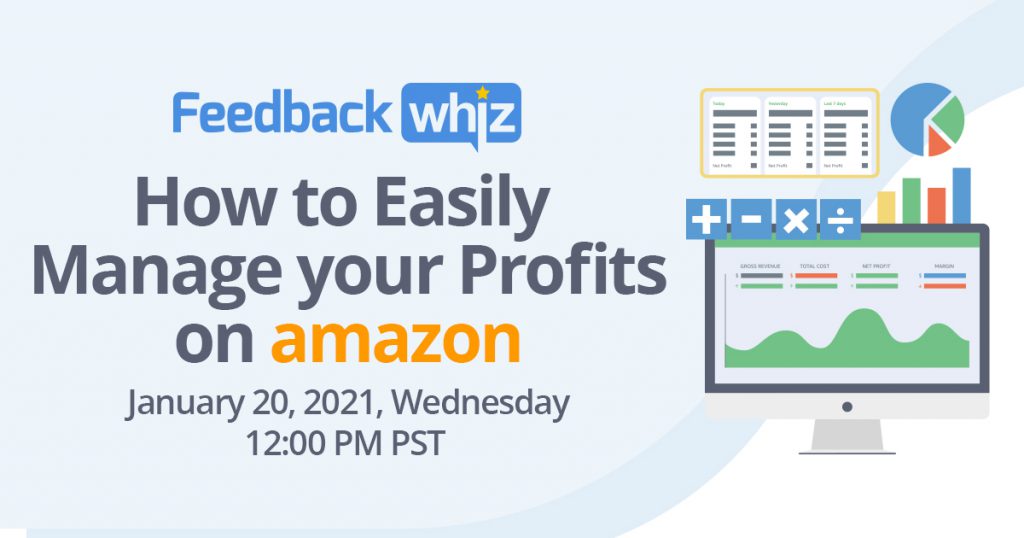 In a recent article, we covered the top six reasons to use an Amazon profits and accounting tool. Chief among these reasons is the ease in which you are able to access all of the data that goes into your business. This allows you to quickly and efficiently identify what is working best and what needs improvement when it comes to generating profit.
Reading about the benefits of an Amazon profits and accounting tool can give you an idea of how helpful of a tool this is. But to really see just how effective this tool is, you have to see it in action. Fortunately, you have the opportunity to do just that in our FeedbackWhiz Profit and Accounting Webinar this Wednesday at 12:00 pm PST.
What You'll Get By Attending This Amazon Profits Webinar
The absolute best way to get a feel for our new Profit and Loss tool is by trying it for yourself, which you can do for free for 30 days. The FeedbackWhiz Profit and Accounting tool is intuitive and easy to use, so you shouldn't have any issues if you decide to give it a shot. But to really get the most out of this powerful tool and learn all about the things it can do, you will need some instruction.
This Wednesday's webinar will give you all of the information that you will need. You'll be able to see how attractive the interface is and how easy to read and customize the charts and graphs are during the tutorial. You will also get in-depth instructions on how to input data, add labels to products, and other useful information that will help you get the most out of your experience using the Profit and Accounting tool.
What This Means For You
The webinar is completely free to attend, and our new Profit and Accounting tool is free to try. For absolutely no risk, you can see exactly what this tool does and what makes it so effective in maximizing the profitability of your business before you even try it. Then when you do decide to utilize it yourself, you will be equipped with all of the instructions you need to customize your tool to your Amazon storefront.
How to Register
We can't wait to see you this Wednesday at Noon Pacific Time! You can register for the free webinar by clicking here, or on the image below. But if you're ready to dive into the tool, get started by checking out all of the great new features!