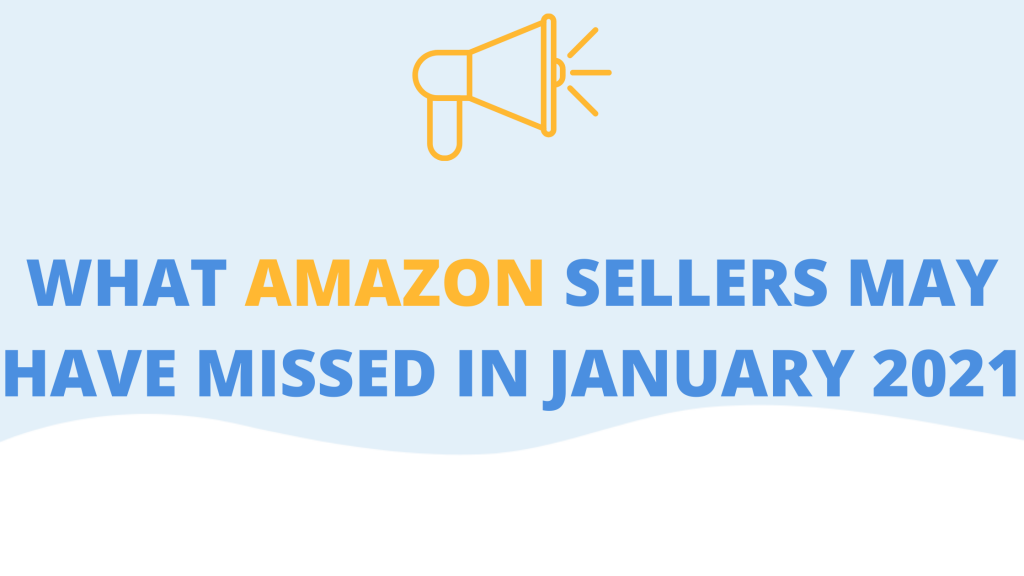 Keeping up with all of the changes that occur on Amazon as well as overall market trends can be a lot of work, especially for busy Amazon sellers that already have plenty on their plate in running a business. In this monthly roundup, we'll deliver to you some of the most interesting articles that came out over the last month to get you up to date on the latest news, trends, and tips that Amazon sellers should be aware of. In January 2021, we saw some interesting trends that could set the tone for the rest of the year; and we saw some great tools and tips you can utilize to help your forecasting for the year.
Trends in January 2021 and Beyond
Amazon Third-Party Sellers Are Being Bought Up Rapidly. But There Are Risks – Forbes 
Some companies are targeting successful third-party sellers on Amazon and buying up their businesses with the intent of rolling up a handful of successful small businesses into one big one. Is this the future of third-party selling on Amazon?
75% of New Sellers on Amazon Are From China – Marketplace Pulse
China-based sellers made up 75% of new sellers that signed up for Amazon in January of 2021 which is a significant jump from the 47% of new sellers from China in 2020. Great customer service and quick shipping via Amazon Prime could be essential for North American based sellers looking to stay ahead of international competition.
7 Awesome Amazon Stats for Sellers in 2021
2020 was a rough year for everyone, but Amazon saw record sales numbers as more and more people turned to online shopping. Plenty of statistics point to continued growth and an exciting future for Amazon sellers.
The Disappearing Amazon Resellers – Marketplace Pulse
Resellers used to make up a significant portion of third-party sellers as competition was low and Amazon welcomed the additional product coverage in their marketplace. But increased competition from other resellers, private label alternatives and Amazon itself has made reselling a much less popular business model in recent years.
Tips and Tools for Amazon Sellers from January 2021
Amazon Lowers Inventory Performance Index Threshold For Sellers – eSellerCafe
After originally moving the IPI requirement for sellers up to 500, Amazon has decided to lower the IPI threshold back down to 450 moving forward. This is great news for sellers having trouble maintaining a high IPI with Amazon's confusing algorithm. We covered how to raise your IPI last year for those still struggling to do so.
Amazon Buyer-Seller Messaging Changes and What They Mean – Zentail
The changes to buyer-seller messaging last year left many sellers scrambling for effective ways to reach out to their customers for product review requests. This article breaks down the changes and how you can work with them.
How to Lower Amazon Seller Fees in 2021
All sellers on Amazon want to reduce their fees as much as possible as less fees equals more profit. We took an in-depth look at all of the different types of fees that Amazon charges and looked for some areas that sellers could potentially lower their fees in.
The Top 6 Reasons to Use An Amazon Profit and Accounting Tool
Analyzing profitability goes far deeper than simply checking your sales against the cost of your products. In addition to getting more accurate profit reports that factor in all of your fees and business costs, a great profit and accounting tool can also show you profitability over different time frames and on individual products. This article covers many of the top benefits.
How to Easily Manage Your Profits on Amazon | FeedbackWhiz Webinar
FeedbackWhiz hosted a webinar on how its new Profit and Accounting Tool works. See the tool in action with in-depth analysis and hear the answers to some frequently asked questions in this video replay of January's webinar. You can view our webinar at this link.
Wanna get all the latest and greatest news and selling tips delivered directly to your inbox? Simply subscribe to our newsletter by submitting your email below!