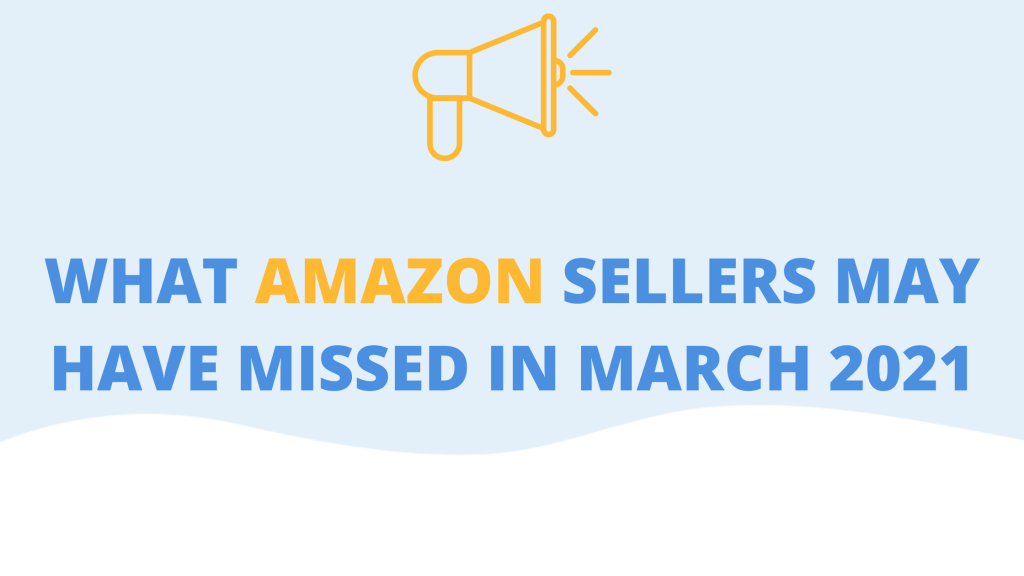 It's hard to believe that it has been one year since March of 2020 when the United States went into lockdown to combat the coronavirus pandemic. It has been a long and difficult year for everyone, and one that changed the way people view retail and e-commerce.
Amazon's continued growth is putting the pressure on active sellers to make sure they are at the top of their game when it comes to optimizing their brand image and presence on the platform. Here's a roundup of some of the top trends and business advice articles and videos that were published in March of 2021.
Amazon Trends from March to Keep an Eye On
Amazon started 2017 with less than three million third-party sellers on the platform. That number has more than doubled to over six million third-party sellers in the last four years. While many of those sellers are no longer active, it is interesting to see the annual growth of new sellers around the world remain steady despite ups and downs in the economy and routine changes to Amazon's policies. –Marketplace Pulse
The price of doing business on Amazon is going up for third-party sellers. In this article we cover what fees will be changing this June and how it will affect your business on Amazon.
Amazon's business-to-business marketplace has surpassed $25 billion in annualized sales in just five years since launching. Over half of those sales have been made by third-party businesses. Is your business taking advantage of Amazon Business? –MarketPlace Pulse
FinancesOnline put together this comprehensive list of Amazon Trends that point to a number of interesting directions that Amazon could go in the years to come. These trends include Amazon's recent success in markets including groceries, advertising, and entertainment. –FinancesOnline
Tips, Tools, and Advice For Amazon Sellers
Amazon sellers should always be looking for new and efficient ways to increase their profitability on Amazon. This list of five tips is worth reviewing for some great ideas that lead to a boost in sales and profits for your Amazon business. –Bluetuskr
A number of factors go into earning and keeping a great reputation online including customer service and product reviews received on Amazon. This guide breaks down the importance of your brand's reputation online and what you can do to build it up.
Unfortunately, packages getting lost or delayed in transit is just part of doing business on Amazon. But while it is impossible to avoid these issues 100% of the time, there are measures that can be taken to make sure that your packages arrive to your customers on time as often as possible. This article breaks down the process and what actions you can take.
The retail world has been changed forever by the COVID-19 pandemic and the sharp focus on e-commerce over the last year. Is your business ready to adapt to these changes in the year to come? We took a deep dive into the future of retail, ASIN and price changes over the span of the pandemic, seller growth, and how you can best position yourself to succeed in it in our latest webinar in March.
This quick video tutorial can help you expand your Amazon business into all of the international marketplaces available on Amazon. If you've been hesitating to expand into other countries, this article is a great place to start. –NewswatchTV
As more and more sellers enter the Amazon marketplace, separating yourself from the competition with outstanding product listings becomes increasingly important. These five tips will help you to ensure that all of your product listings on Amazon are attractive and informative to potential customers. –Business2Community.com
Carlos Alvarez from Wizards of eCom had a chat with our very own CEO Henson Wu to discuss how a great profits analysis tool can help you take your business to new heights. You can check out a replay of this conversation using the link above.
Check out our free guide: The Ultimate Guide to Amazon Profits and Accounting Tools.
Subscribe to our newsletter below to stay up to date with all the latest news and trends to help you dominate the marketplace.