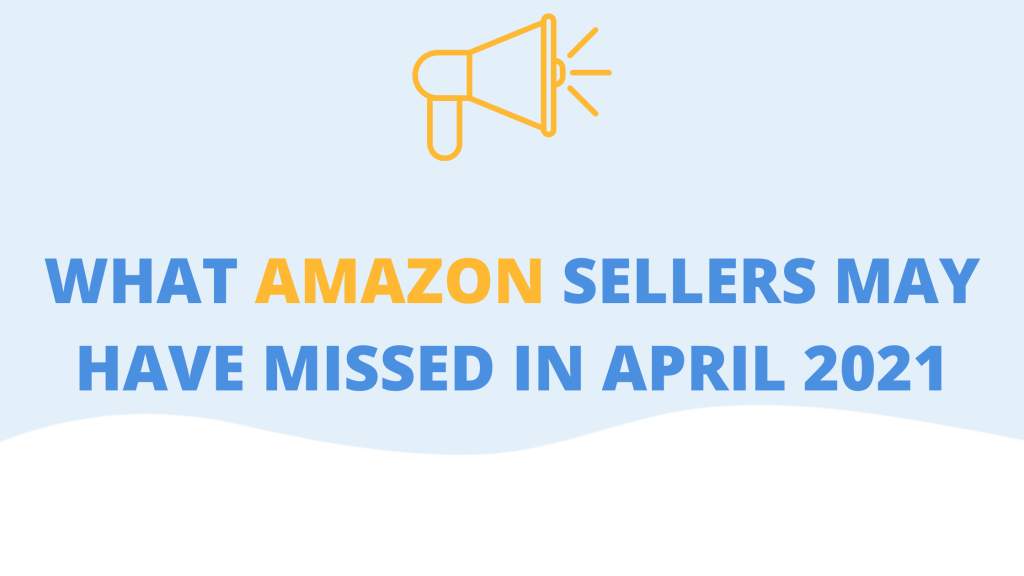 April saw some interesting news. To start, Amazon absolutely crushed its earnings expectations for the first quarter in 2021, earning $15.79 per share compared to the $9.54 per share that was expected and $108.52 billion in revenue compared to $104.47 billion projected. It is clear that despite the fact that things are starting to get back to normal in a post-pandemic environment in the United States, Amazon's dominance in the retail world isn't fading.
As Amazon sellers look forward to another strong quarter in Q2, here's a look at some useful articles that have come out over the last month. 
Related: Here's what you may have missed in March 2021.
Interesting Articles From Around the Web in April 2021
As of April 8, customer names and street addresses are no longer displayed to sellers who sold their products through Amazon FBA. This Marketplace Pulse article breaks down how unique this structure is, in that third-party sellers in most cases have no real contact with their customers, which is basically the opposite of how most business-to-customer businesses work.
Huge companies collecting successful Amazon sellers has become an extremely popular business model in recent years. In just the first four months of 2021, $2.5 billion in capital has been raised by firms looking to aggregate third-party sellers on Amazon. This practice is worth keeping an eye on, especially for successful sellers that may eventually be approached by one of these aggregators. 
Amazon expects its sellers to maintain liability for their own products. But in this groundbreaking case, California has ruled that Amazon is more than just an intermediary and is responsible for third-party sellers' products. These types of rulings could have long-term effects on Amazon's liability policies.
ecomCrew is releasing a six-part series breaking down the PPC model and identifying the best strategies to succeed with so many PPC options now available on Amazon. This first part goes over some of the real ACoS and PPC numbers for multiple seven-figure brands.
Is your business up-to-date on what modern consumers are looking for and what they have come to expect? This free-to-download guide covers a handful of topics on how the modern consumer behaves and how your business can engage with them.
This New York Times op-ed piece covers the story of how Amazon warehouse workers in Alabama voted against the forming of a union to represent them. Despite some complaints about work conditions and hours, warehouse workers generally seem to be content with how they are treated by Amazon.
And Some Must-Read Content We Featured in April
As prices fluctuate based on price-changes and promotions, understanding how much your average unit retail is on your products is essential to keeping up with the profitability of your business. This guide to AUR covers how to solve for this metric and what it means to your profitability on Amazon.
Small-scale businesses on Amazon may be able to handle all of their day-to-day operations without the need for outside assistance. But as your company and sales grow, an Amazon Consultant could help make things easier and take your business to the next level. This article covers what Amazon consultants do so that you can determine for yourself if one might be the right fit for your business.
With vaccines making their way around the United States, in-person conferences are finally becoming a reality again. We've compiled a list of all of the top conferences catered to Amazon sellers that are taking place in 2021 both in person and online.
Getting customers to your product page is only half of the battle. Whether or not they are converted into a sale is the key to a successful business on Amazon. Here are some tips on how to optimize your conversion rates to increase sales and profits.
PPC advertising can be hit-or-miss depending on what products and keywords you target. This PPC guide will help you to create successful Amazon advertising campaigns that can drive traffic and sales to your brand and products.
Podcasts can make for a great learning tool. Whether you listen in the gym, in the car, or from the comfort of your home, Amazon seller podcasts can help you pick up tips and keep you up to date on news without requiring you to focus on your screen like an article or video does. This list features eight of our favorite podcasts catered specifically to Amazon sellers.
Having a great brand and product recognition are essential to standing out in a crowded Amazon marketplace. But sometimes it is difficult to know where to start. This article will point you in the right direction with some helpful tips on building your reputation as a seller.
Want to stay in the loop every month? Subscribe to our newsletter below!