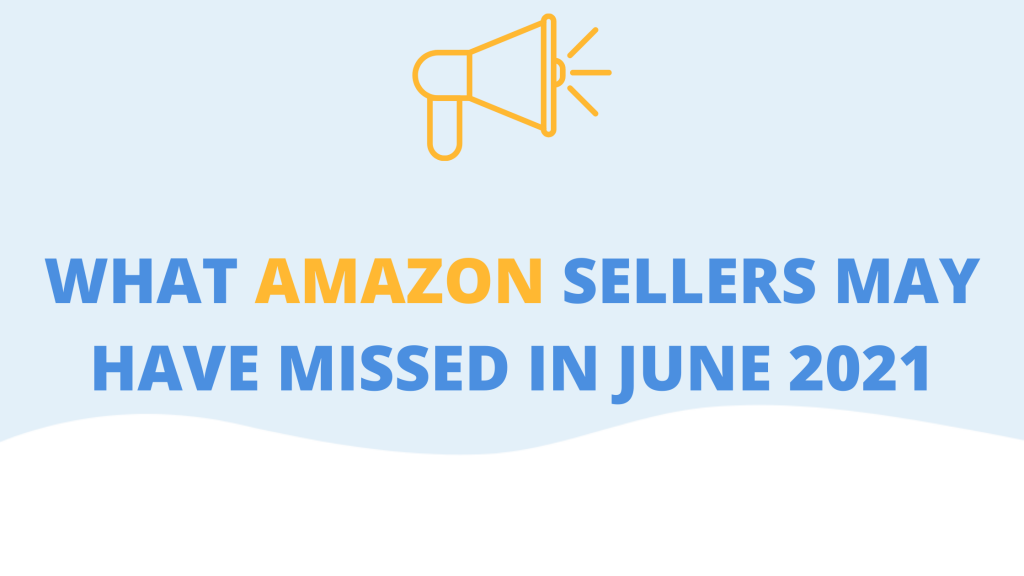 June has come and gone and with it, Amazon Prime Day 2021 is officially over. After months of preparation and speculation leading up to the event, sellers are now shifting into the aftermath of the big sale. We've compiled a bunch of great articles for you to read on how Prime Day went and what we can learn from it, as well as a handful of other industry news stories that you don't want to miss.
Here's what you may have missed from June.
Related: Here's what you may have missed in May 2021.
Amazon Prime Day Statistics and Observations from June 2021
The 5-Step Guide to Maximize Profits After Prime Day
Sellers put so much work into preparation for Prime Day that it feels like the end of the event is a time to kick your feet up and rest. In reality, though, there is plenty of work still to be done after Prime Day is over to make sure that your store is maximizing profits in the weeks and months following the big sale. Make sure you check out these five steps to optimization that we have assembled specifically for Amazon sellers.
Amazon Prime Day Creates Halo Effect For Large Rival Retailers, Email Marketing
Shopping has been trending towards online commerce for years, and COVID-19 shutdowns only sped up this process. As Amazon continues to dominate the e-commerce retail scene, rival retailers are doing what they can to increase their online presences to compete with the retail giant.
These Are the Best Sellers From Amazon Prime Day 2021
Curious to see what products had the most success on Amazon in 2021? From the Waterpik Aquarius Water Flosser to the Keurig K-Slim coffee maker, there were a handful of fun and interesting products that excelled on Prime Day as shoppers bought gifts for others and themselves at heavily discounted prices.
Prime Day 2021 Recap: "Two Biggest Days Ever" For Small/Medium Businesses, Best-Sellers, More
Amazon's small business promotion led to the sale of over 70 million small business products in the two weeks leading up to Prime Day in 2021. Check out the staggering numbers behind the promotion that drove a significant increase in third-party sales over the 2020 Amazon Prime Day that was already considered a massive success.
Prime Day's Growth Is Stalling
How close is Prime Day to reaching its ceiling? Sales and profits continue to rise every year, but that rate of growth is slowing down as there is only so much room to grow. It will be interesting to see what the next 5-10 years brings and whether Amazon will make any changes to Prime Day to try to spark even more growth.
How Prime Day 2021 Is Going to Change Your Digital Strategies
Prime Day has such a huge impact on the market every year that it makes reassessing your own business and digital strategies in the aftermath of it an essential practice to running a successful online business. We covered four ways that Prime Day could change your digital strategies moving forward.
Other Interesting News and Stats from June
Amazon Surveys Sellers on Violation Appeals Process
Amazon puts a lot of resources into customer service for both customers and sellers. But with some processes being automated, sellers are often left confused and frustrated by rulings in which they feel are not reached fairly. Amazon's Seller Trust team recently surveyed sellers to try to find solutions to some of these issues.
Amazon Ads Are Getting More Expensive
As categories on Amazon get more and more competitive with both big corporations and third party sellers jostling for position, the price of advertising is going up across the board. Sellers will need to adjust their advertising budgets and strategies accordingly.
Policy Updates and Reminders for US Seller-Fulfilled Returns: Effective August 16, 2021
Amazon has made updates to its US seller-fulfilled returns policies that will go into effect in August. If you sell products that are fulfilled by merchant, make sure that you review and understand these policies so that you are ready for the changes ahead.
Why Amazon Sellers Fail on Walmart, eBay & Other Marketplaces
Paul Capriolo over at Zentail put together a great guide on the common problems that Amazon sellers have as they try to transition into other online marketplaces. This is a must-read for sellers that are selling on multiple platforms or considering doing so in the future. This article breaks down common issues but also offers solutions to them as well.
U.S., European Suppliers Scramble to Secure Christmas Goods as Cargo Delays Worsen
Suppliers to big companies like Amazon, Walmart, and Target are preparing for the holiday season early this year due to concerns about delays in Chinese-made merchandise being transported to the United States. This is an important read for sellers who source products from China that could be affected by delays this year.
Amazon's Top-Selling Product Categories Include…
Wedding Registry gift-giving has doubled from last year as couples who were forced to postpone their weddings due to COVID-19 restrictions are tying the knot in 2021. Luggage and travel products have also seen a sharp uptick this year. Check out this report on what product categories are excelling in June and for the rest of 2021.
Amazon ASIN vs SKU: What's the Difference?
Do you know what the difference between an Amazon ASIN and a SKU number is? And when it is best to use and apply each one? We put together this article to educate those who don't know and as a refresher to those who do, but could use a reminder.